Central CPD is a new state-of-the art training facility which is ideal for carrying out wet-lab cadaver surgery to develop your surgical skills and is extremely convenient to get to by public transport
Sessions
Stifle disease - Cranial cruciate ligament disease featuring MMP and patellar luxation featuring RidgeStop
Includes sawbone and cadaver sessions
Plate osteosynthesis featuring SOP
Includes a range of sawbones and cadaver session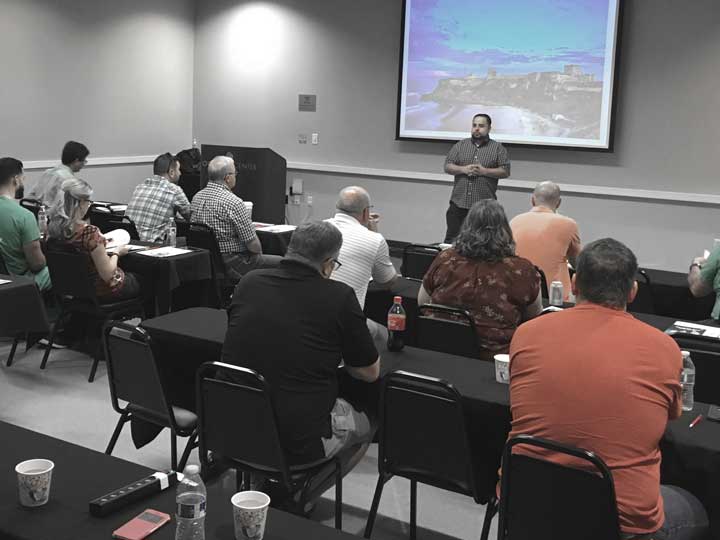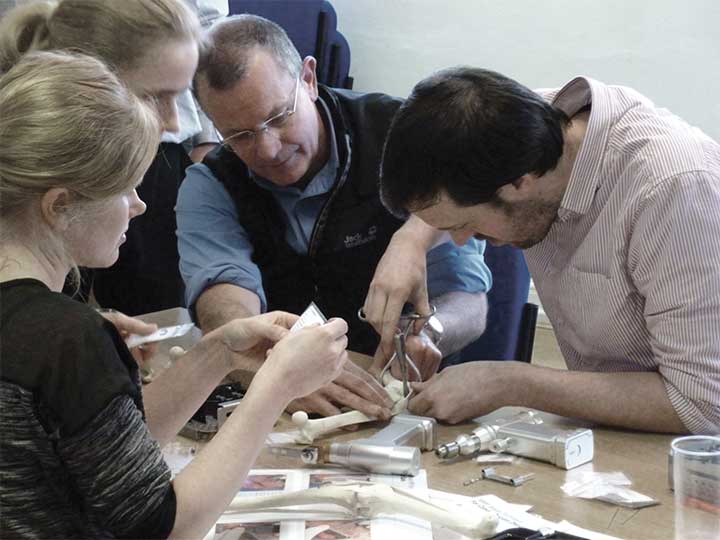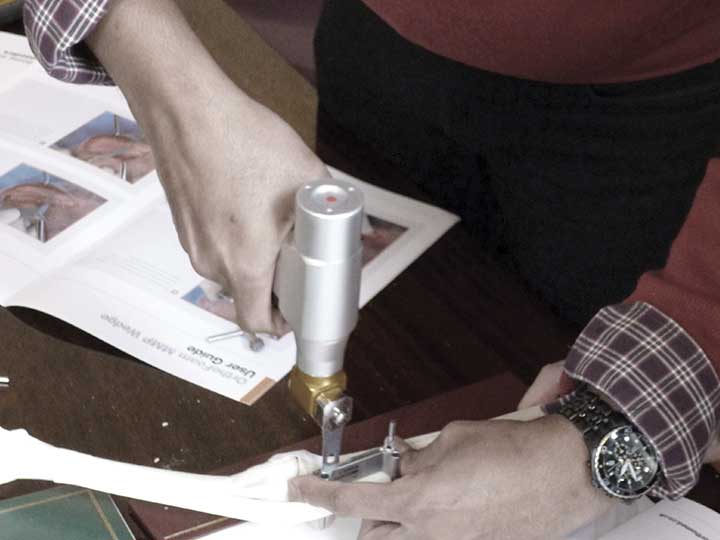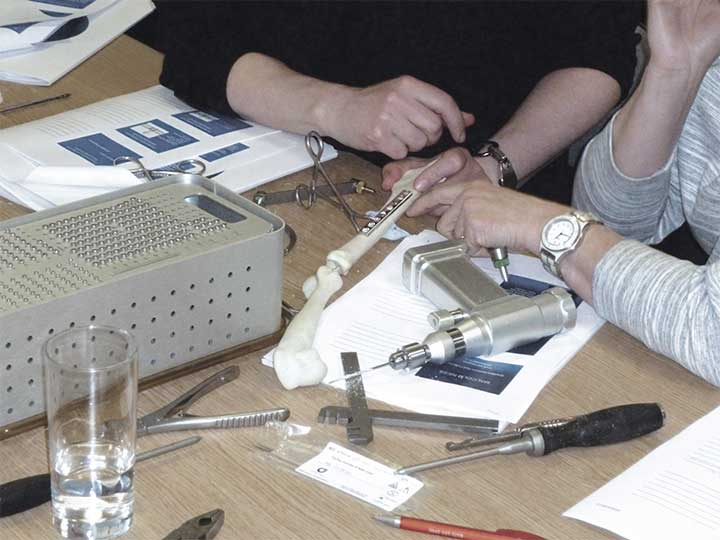 Workshops
Full & half day, hands on workshops
Each workshop gives participants the chance to carry out procedures on plastic models or cadavers, under the instruction of highly regarded tutors.
---
Stifle Disease: Cranial Cruciate Ligament Disease
Featuring MMP
MMP is a surgical technique for treatment of lameness caused by failure of the cranial cruciate ligament (CCL).
Named after a human surgeon, Dr. P Maquet, the MMP is a form of TTA and uses a pure titanium foam wedge to advance and fix the tuberosity. The MMP was developed to make Tibial Osteotomy surgery more widely available to surgeons.
Course Agenda
Pathology and diagnosis of cranial cruciate ligament disease

Treatment options for CCL disease and meniscal injury

OrthoFoam™ – the bone ingrowth implant

MMP technique

Key steps of procedure

MMP variations

Difficult cases

Dealing with complications

MMP sawbone practical

MMP cadaver practical (course dependent)
The MMP procedure allows for short surgery time, short convalescence, can be more cost effective and outcomes are similar to those of TPLO*
*"Outcome after Tibial Plateau Levelling Osteotomy and Modified Maquet Procedure in Dogs with Cranial Cruciate Ligament Rupture"
Authors: Knebel J, et al VCOT 2020 Apr 21. doi: 10.1055/s-0040-1701502.
Stifle Disease: Patellar Luxation
Featuring RidgeStop™
RidgeStop™ is employed as an adjunct procedure when re-alignment operations such as tibial tuberosity transposition or much less commonly distal femoral ostectomy have been performed.
The aim of the surgery is to make sure that the patellar slides up and down within its groove, without slipping to one side or the other; the cause of discomfort and lameness.
Unlike other procedures for patellar luxation where the joint surface has to be cut, this is a much less traumatic procedure, as well as being more effective.
Course Agenda
Patellar luxation pathophysiology

Patellar luxation including tibial tuberosity transposition

The concept of RidgeStop™

RidgeStop™ and TTT sawbone practical

RidgeStop™ and TTT cadaver practical (course dependent)
Plate Osteosynthesis
Featuring SOP™
The SOP™ is a world-leading locking plate fixation system. This system can be thought of as an internal – external fixator and is applicable in a huge array of fracture repairs. SOP™ also serves as a locking spinal fixation system and is available in 2.0mm, 2.7mm and 3.5mm sizes in either steel or titanium.
It's a hugely versatile system that requires minimal instrumentation and therefore removes the need for expensive investment.
NEW
2021 will also see the introduction of a new low profile SOP™ system which will be incorporated into our workshops. This low profile plate, utilises the same principles of SOP™ technology for the plate and screw interface and was developed for small cases ranging from 2kg to 10kg.
Course Agenda
Fracture and implant biomechanics

Bone healing principles

Assessment of fracture patient

Fracture score

Internal fracture fixation

How to apply non locking plates

Locking plates and screws

How SOP™ differs to existing implant systems

SOP™ biomechanics

SOP™ clinical recommendations

SOP™ sawbone practical

SOP™ cadaver practical (course dependent)
Just wanted to say a huge thank you for today. It was not only a great MMP/RidgeStop course but a really interesting discussion on the subject of cruciate "repair" and meniscal injury.
Thank you for the extraordinary course in Glasgow. It was a really great weekend and I hope to attend another advanced spinal surgery course.
You guys are always great to me and I am very grateful and appreciative.
I enjoyed the course, intensive and informative
Thank you again for your help and support - you're always there when I need you
Everyone in the office are always so helpful - we know we can always rely on you
I came across the MMP course and decided to book and see if it was something we could do in practice. As the only vet in my practice able to carry out the procedure it has been reassuring to know there is someone at the end of the phone. I would not hesitate to recommend the MMP course.
The MMP kit has transformed our management of CCL failure cases and the PCA plate worked wonders in a 6 year old Border Collie with bilateral carpal hyperextension and advanced osteoarthritis secondary to immune-mediated polyarthritis - without it I doubt if that dog would still be here.
I have been working closely with Orthomed for the last three years. I am using RidgeStop™, MMP, SOP™ and Castless PCA plating systems and achieving good outcomes. I find their product range innovative and effective with a valuable technical and training support team to back it up.
Since adopting the MMP as my preferred mode of treatment for ACL deficiency I have found all the products to be innovative, practical and very user friendly. Excellent customer service.
"We have over 100 MMP cases. I found the technique to be very easy to master and the outcomes excellent. Client satisfaction is 100% as almost all dogs are much improved at a 4 week post-op follow-up and many are sound at that point. Complications are few and support from the crew at Orthomed has always been prompt and helpful."
Norm Griggs, Shepherd Spring Animal Hospital
"Orthomed are my first choice of supplier when it comes to orthopaedic instruments and support. Their workshops and training are excellent and gave me complete confidence to carry out procedures for cruciate disease, patella luxation and also fracture repair. Their help and support has always been excellent"
Robin Stratton, Vets4Pets Accrington
"Having attended the Orthomed course I gained lots of confidence in the technique and was able to put it into practice immediately. It has been great for the practice to keep these procedures in-house. Clients are delighted. The after sales help has been amazing with advise on upcoming procedures and post operative radiographs. I'm looking forward to my next course."
Ben Orton, Black Notley Veterinary Surgery
"I have been using Orthomeds SOP plates for 8 years. They are an excellent adjunct to dynamic plate system and allow for locking applications with standard cortical screws. We have been primarily using the SOP TPLO plates and find them very easy to use and have reduced the incidence of "tibial rock back" as compared to standard TPLO plates"
Dr. Dan Degner, Animal Surgical Center, Michigan
Trainers
Taught by world leading experts
The following leading experts lecture our workshops and use our products. Confirmation of who is teaching on the day will be determined closer to the date of the event.
Scott Rutherford
BVMS, CertSAS, DipECVS, MRCVS, RCVS & EU Specialist in Small Animal Surgery
Tickets
Book online today
Tickets can be purchased online in advance of the event. If you have any questions, please call us on +44 (0)845 045 0259
Quick Order
Already know the product code? Quickly add products to your basket...