This new live presentation has been put together by our clinical leaders to highlight the evolution, clinical updates and progression of the Modified Maquet Procedure over the last few years.
They will also share their experiences and provide insights into how the achieved successful outcomes.
Who should attend?
• Current MMP users
• Previous MMP users
• Surgeons interested in cruciate controversies
Conference overview
• Diagnosing cruciate disease
• Surgical options for cruciate disease
• Cruciate controversies
• Arthrotomy or not to arthrotomy
MMP updates
• Pre and post-op planning
• Intraoperative considerations
• Procedure updates
• Performing MMP's on giant, medium and small breeds
• Managing complications
• New MMP clinical publications
• MMP case reviews
Sessions
Fri, 28 Aug
12:00EST/17:00BST 3 hours
Live Conference - Modified Maquet Procedure
Limited places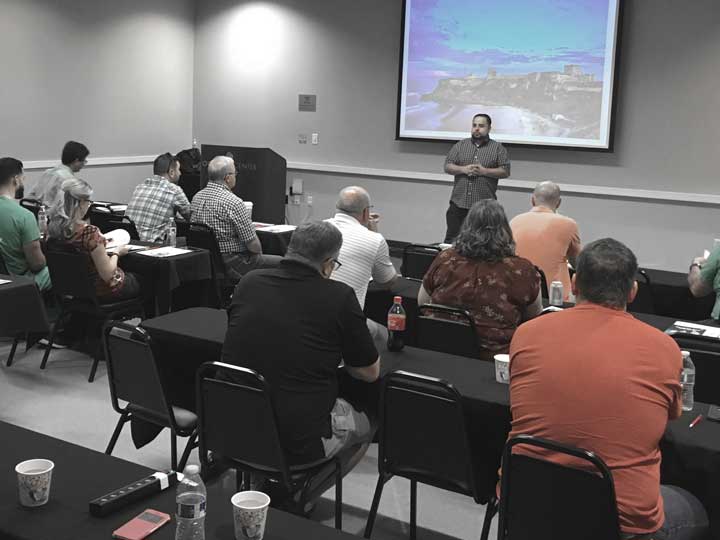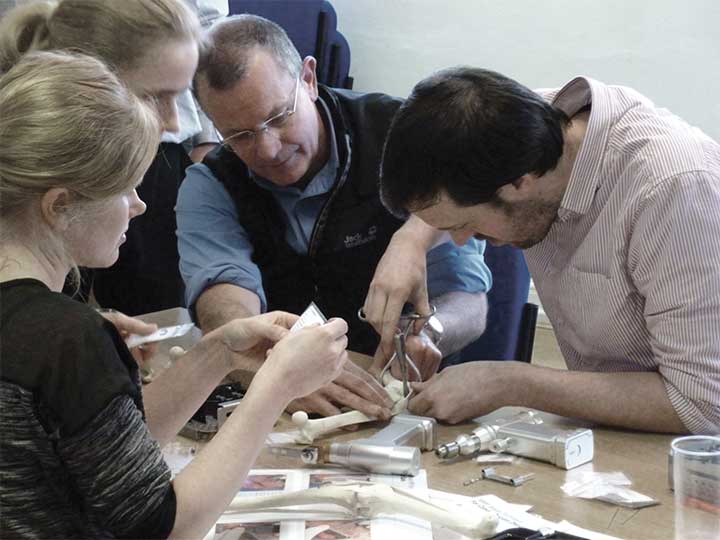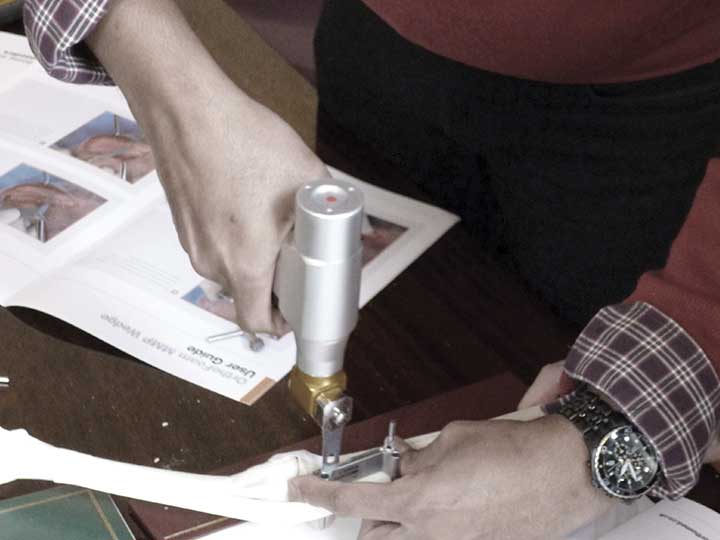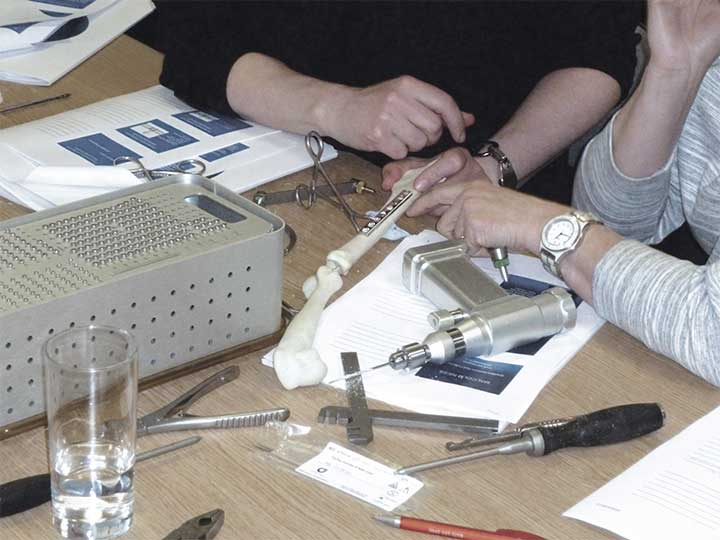 Workshops
Full & half day, hands on workshops
Each workshop gives participants the chance to carry out procedures on plastic models or cadavers, under the instruction of highly regarded tutors.
---
OrthoFoam™ MMP Wedge for TTA (1/2 Day am)
An evolution of the TTA procedure for treatment of lameness due to cranial cruciate failure.
The Modified Maquet Procedure (MMP) is an evolution of the TTA procedure for treatment of lameness due to cranial cruciate failure.
The course is in two parts: a lecture based introduction followed by a practical session using synthetic bone models of the stifle, animations and video support material will also be used. The development of the technique, implants and associated instrumentation will be described and a detailed review of surgical technique and clinical outcomes will cover all aspects of MMP.
The benefits of RidgeStop:
Titanium, porous wedge replaces existing TTA systems
Open-pore titanium encourages bone growth
Simplified procedure
20 – 25 minute surgical time with short convalescence
Can be used on small, large and giant breeds
During this session we will cover:
Biomechanics and theoretical foundations of TTA's
An introduction to MMP and OrthoFoam™
Advancement of the 90° patella tendon angle - the controversies
How to perform an MMP procedure with confidence
Clinical experience and publications
Dry bone practical session
By the end of this course delegates should have an understanding of:
Why we've developed another cruciate sugery technique
Biomechanics and theoretical foundations of MMP
Case selection for MMP
Ability to perform MMP procedure
Just wanted to say a huge thank you for today. It was not only a great MMP/RidgeStop course but a really interesting discussion on the subject of cruciate "repair" and meniscal injury.
Thank you for the extraordinary course in Glasgow. It was a really great weekend and I hope to attend another advanced spinal surgery course.
You guys are always great to me and I am very grateful and appreciative.
I enjoyed the course, intensive and informative
Thank you again for your help and support - you're always there when I need you
Everyone in the office are always so helpful - we know we can always rely on you
I came across the MMP course and decided to book and see if it was something we could do in practice. As the only vet in my practice able to carry out the procedure it has been reassuring to know there is someone at the end of the phone. I would not hesitate to recommend the MMP course.
The MMP kit has transformed our management of CCL failure cases and the PCA plate worked wonders in a 6 year old Border Collie with bilateral carpal hyperextension and advanced osteoarthritis secondary to immune-mediated polyarthritis - without it I doubt if that dog would still be here.
I have been working closely with Orthomed for the last three years. I am using RidgeStop™, MMP, SOP™ and Castless PCA plating systems and achieving good outcomes. I find their product range innovative and effective with a valuable technical and training support team to back it up.
Since adopting the MMP as my preferred mode of treatment for ACL deficiency I have found all the products to be innovative, practical and very user friendly. Excellent customer service.
"We have over 100 MMP cases. I found the technique to be very easy to master and the outcomes excellent. Client satisfaction is 100% as almost all dogs are much improved at a 4 week post-op follow-up and many are sound at that point. Complications are few and support from the crew at Orthomed has always been prompt and helpful."
Norm Griggs, Shepherd Spring Animal Hospital
"Orthomed are my first choice of supplier when it comes to orthopaedic instruments and support. Their workshops and training are excellent and gave me complete confidence to carry out procedures for cruciate disease, patella luxation and also fracture repair. Their help and support has always been excellent"
Robin Stratton, Vets4Pets Accrington
"Having attended the Orthomed course I gained lots of confidence in the technique and was able to put it into practice immediately. It has been great for the practice to keep these procedures in-house. Clients are delighted. The after sales help has been amazing with advise on upcoming procedures and post operative radiographs. I'm looking forward to my next course."
Ben Orton, Black Notley Veterinary Surgery
"I have been using Orthomeds SOP plates for 8 years. They are an excellent adjunct to dynamic plate system and allow for locking applications with standard cortical screws. We have been primarily using the SOP TPLO plates and find them very easy to use and have reduced the incidence of "tibial rock back" as compared to standard TPLO plates"
Dr. Dan Degner, Animal Surgical Center, Michigan
Venue
Live - Via Zoom
Book online or contact local office. International - Email: [email protected] - Phone: +44 (0) 845 045 0259 | USA - Email: [email protected] - Phone: +1 (772) 562-6044 , Live,
Trainers
Taught by world leading experts
The following leading experts lecture our workshops and use our products. Confirmation of who is teaching on the day will be determined closer to the date of the event.
Bruce Nwadike
DVM DipACVS MRCVS
Tickets
Book online today
Tickets need to be purchased from the event organiser. To book tickets follow the link below to the organisers website.
Quick Order
Already know the product code? Quickly add products to your basket...